V being V
BTS are not just musicians; they are a movement. V of BTS has a captivating style of his own that inspires designers. V and Vogue Korea spent a relaxing day at the outskirts of New York City.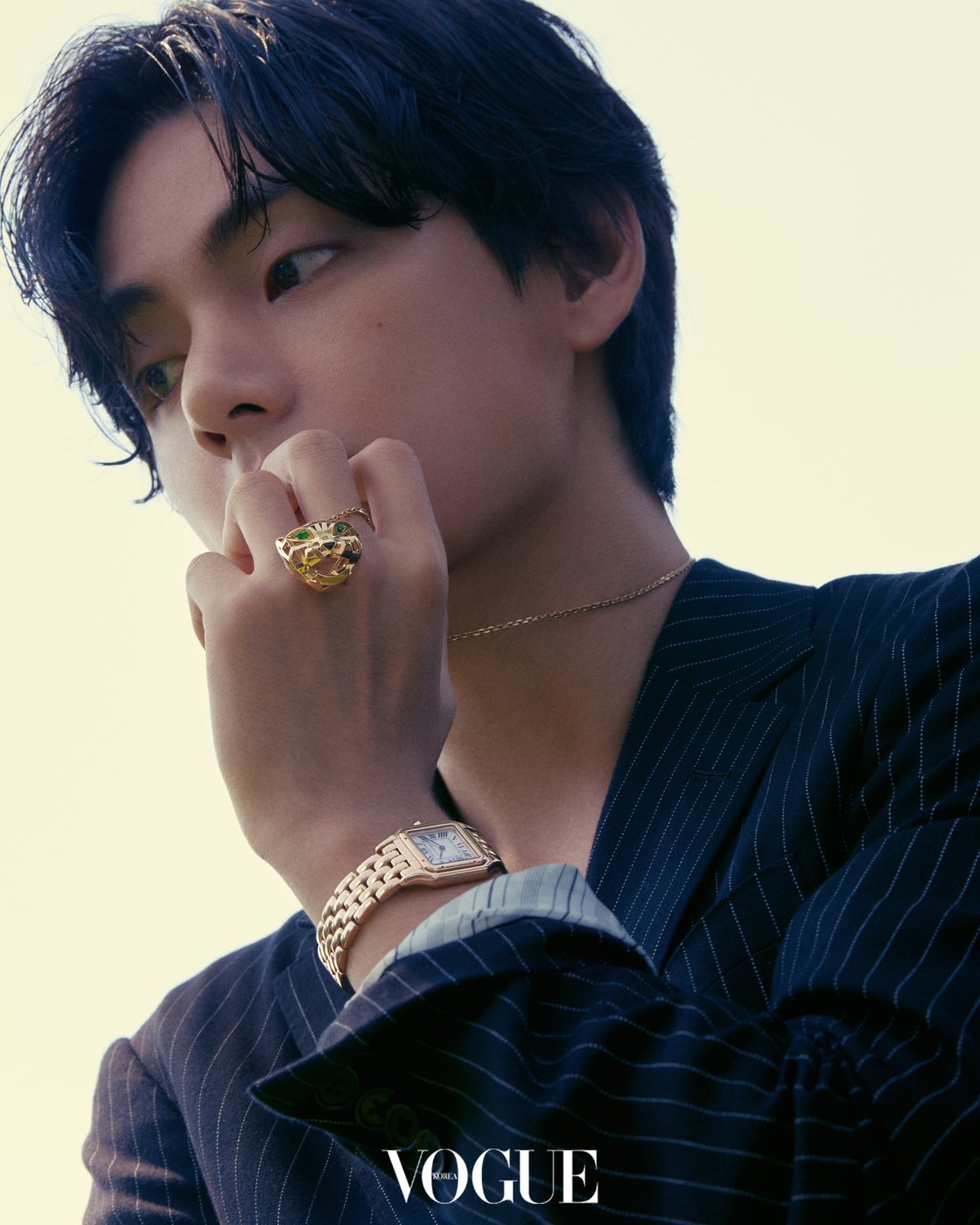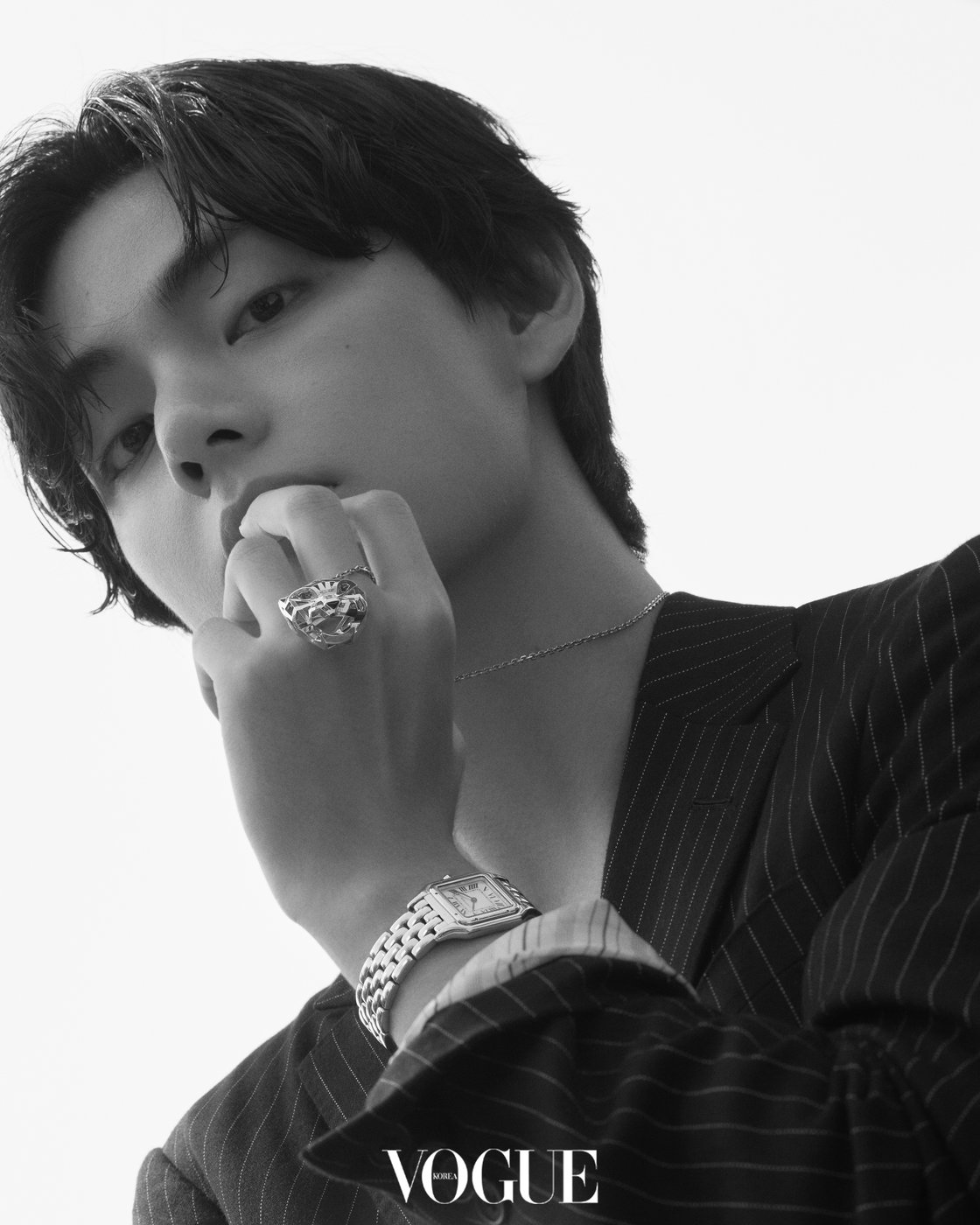 A Relaxing September Evening in Seoul with V of BTS, just returning from New York City
Thank you for taking part in the cover shoot for Vogue Korea at the William Cullen Bryant Homestead. I noticed how relaxed you looked while walking around the beautiful gardens. Are you the kind of person who finds nature relaxing?
I live by a slow rhythm myself, so I do enjoy being in nature. I like finding a place to sit down and simply look at the natural things around me, whether it's a bonfire, a body of water, or even just a tree. My train of thought never stops when I'm in such moments, surrounded by tranquility.
Bryant was an American poet. You purchased artworks by lesser known artists during your world tour in 2018. BTS are a group of artists. Do you feel a sense of affinity with artists in general?
I do feel affinity with artists across borders. I believe that solidarity is important. Appreciating their work and relating to them, I feel that I learn something new.
You are one of the global fashion icons today. What fashion styles or trends catch your attention these days?
I used to go for the British style before. Nowadays, though, I try to look as comfortable and as "me" as possible by going for something much simpler and more casual. It's not that I don't enjoy getting dressed up and styling myself. Every photo shoot comes with a definite concept or theme and I can just follow it there. In everyday life, though, I need to know who I am as Kim Taehyung, as a regular person. It's hard for me to think ahead about what to wear and how to present myself tomorrow. So I try to wear what best expresses who I am as a person every day, or how I feel each day.
I recently watched a video of you dancing alone in a crowd of dancing senior couples at a jazz bar. In reaction to this, the official Bing Crosby estate said on Instagram that you'd make a great crooner one day. Is there any jazz-related project you are thinking of getting into?
I've liked jazz ever since I was a school boy, but it's something that I've only admired from afar and never dared to do myself. I try to show my love and admiration for the art whenever possible, so yes, you might be able to hear something jazzy from me soon.
I listened to a number of songs you've recommended to your fans. It is thanks to you that I discovered The End of the Sea by Korean singer Choi Baek-ho. You seem to like music that comforts and consoles. What would you say about why the world needs music?
Music just lets us breathe, you know. I don't think I would ever want to live in a world that has no music. It amplifies everything I feel in all that I do, whether going to work, while working, going home or while eating. I discovered The End of the Sea through Park Hyo-shin. I'm happy you discovered it through me. I hope you found it as comforting as I did.
Life is full of uncertainties. Because you are at the summit of the pop music world, you have probably run into a fair share of unimagined, unforeseen situations. Yet you seem to be a living embodiment of the saying, "Keep calm and carry on." What is the secret behind your ability to maintain your composure?
I may look calm, but I don't feel calm all the time. I just pretend to be. I try to think clearly and hard in those moments so that I can act with the confidence that the decisions I make are the best for the situation even if they may not be ideal. There is a feeling of responsibility in whatever I do, but I don't regret what I've done. I want to be a good person for those who love me.Our ARMY, BTS members, family and friends keep me happy and healthy even when I'm hurt and struggling.
You often initiate contact with other artists. It's sort of surprising because one would expect a hugely popular celebrity like yourself wouldn't feel the need to reach out to others beyond the entourage surrounding you. Do you find those new encounters energizing? What do such encounters mean to you?
I cherish human connection. I am a people person and I truly enjoy working with everyone I cross professional paths with, including artists, directors, writers, and journalists like you. In the past, I used to be more reserved because I had been hurt by people who treated me simply as a valuable asset to know and not as a friend. But I still like people. It is thanks to the wonderful people in my life that I am who I am now. 
Have you watched I'm Not There, the bio-pic about Bob Dylan? Multiple actors play different parts of Bob Dylan's personality. Even Cate Blanchett plays a part. French poet Arthur Rimbaud makes an appearance, claiming he, too, is Dylan. Through this kind of setup, the film's director seems to be saying that, despite everyone talking about and trying to define Dylan, none of their definitions is the true Bob Dylan. As a celebrity, you must be familiar with the public having a lot of different conceptions and images about you. Doesn't this boggle your mind at times? Do you ever wonder who the real V is?
V is just one of myself, and one of many personas that I have. 
You mentioned somewhere that you were afraid and unsure that the fans would not love you anymore if you stayed out of their sight for long. Do you still have that fear? Is that why you keep working?
I feel good lately because I'm back on track to meet our fans, with concerts and all that. Otherwise, it would have been difficult for me. Sometimes, I feel as though I don't meet the fans as much as I want to, considering certain limits like physical strength, etc. I try my best to show the most of myself whenever I get a chance to meet our fans.
"Inner Child" is one of my favorite songs. A music publication had high praise for this song when it appeared in MAP OF THE SOUL : 7 in 2020, predicting that it will become a K-pop classic in the coming years. The fans out there want to hear you sing more. What kind of music do you hope to give us?
I want to present a kind of music that I've never tried before, something that sets apart from the style BTS' V has shown. I would think, as if one of my other personas were to make a new debut.
Every BTS member has been active in solo careers. What do you guys do to support and help one another?
We are a really positive group and all eager to unconditionally support each other. We had a meeting recently at SUGA's place to play the music we had been working on individually. We were dancing and praising each other non-stop. Being able to pursue one's own music style lights the passion and enthusiasm in us. That's what keeps us in love with what we do. I love seeing that.
What projects besides producing the next album are you working on? What interests you most at the moment, regardless of whether or not it's on your schedule?
I'm intrigued by whatever ARMY find interesting, so I try to take a shot at every such thing when I can. ARMY have been talking about wanting to hear me on radio, so I want to try some deejaying on the radio, too.
You commented before that there are many different things you want to try, but that you feel compelled to stop because you have to first think about your role as a member of BTS. Is that fear still something you struggle with, or are you free of it now?
ARMY understood what we were trying to express and I was so grateful for that. I'm thankful for all their support. Their support has certainly lightened my heart.
You once said being happy means being completely worry-free and in the moment. Have you had such moments?
Such moments do occur, but only fleetingly. If life were just a continuation of only happy moments, wouldn't that be boring? When you have something sweet, you want to have it with something bitter or salty. I think that's life.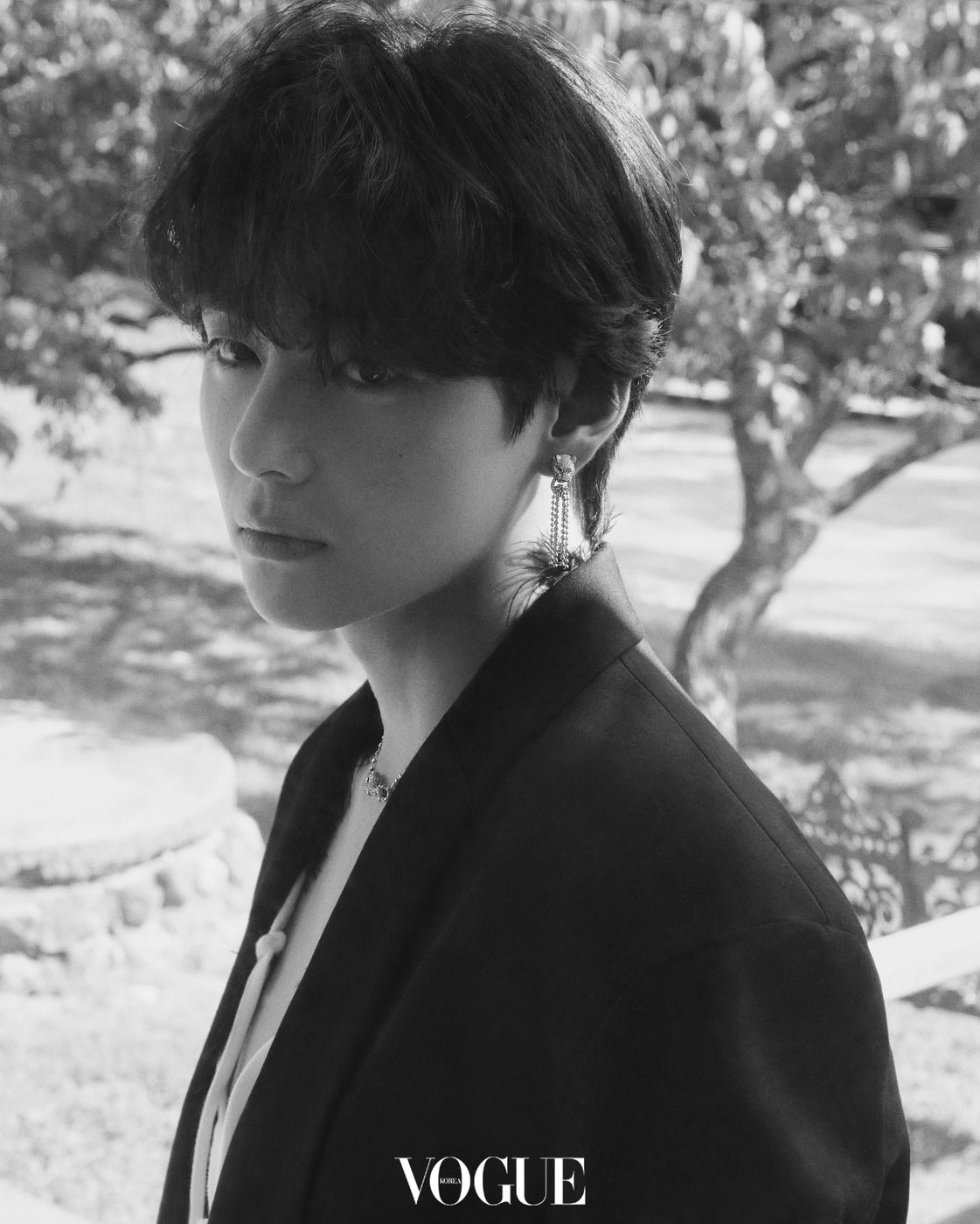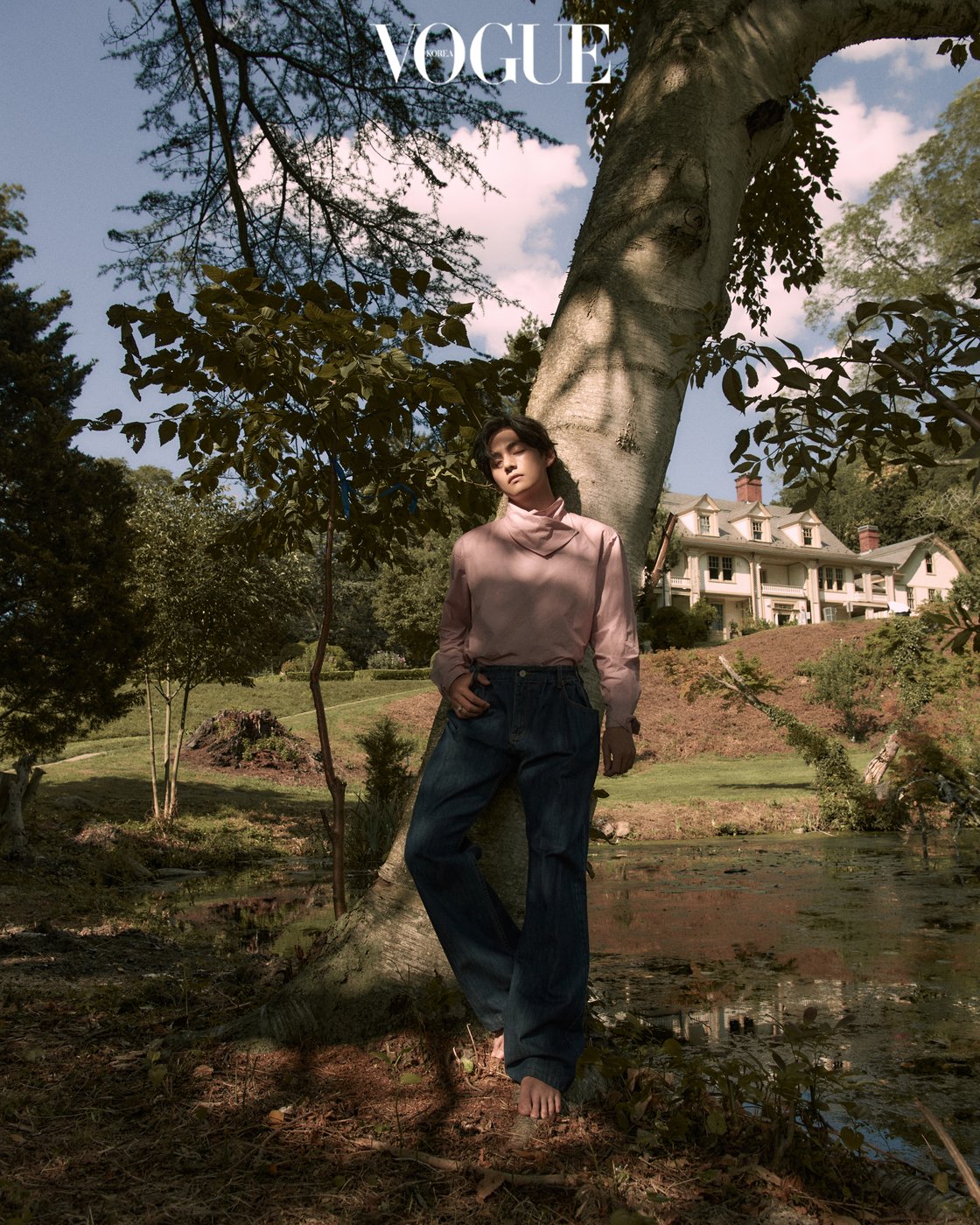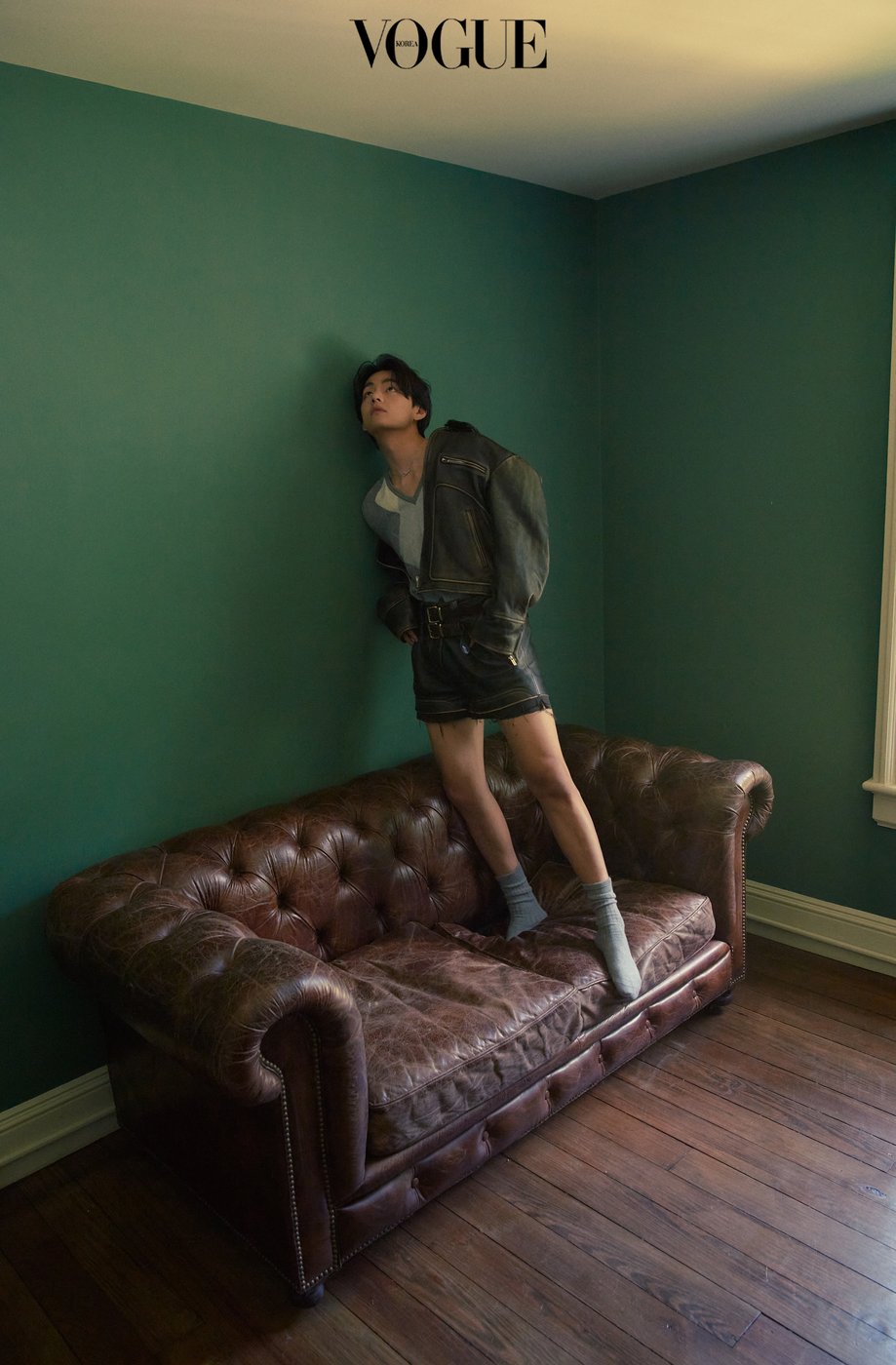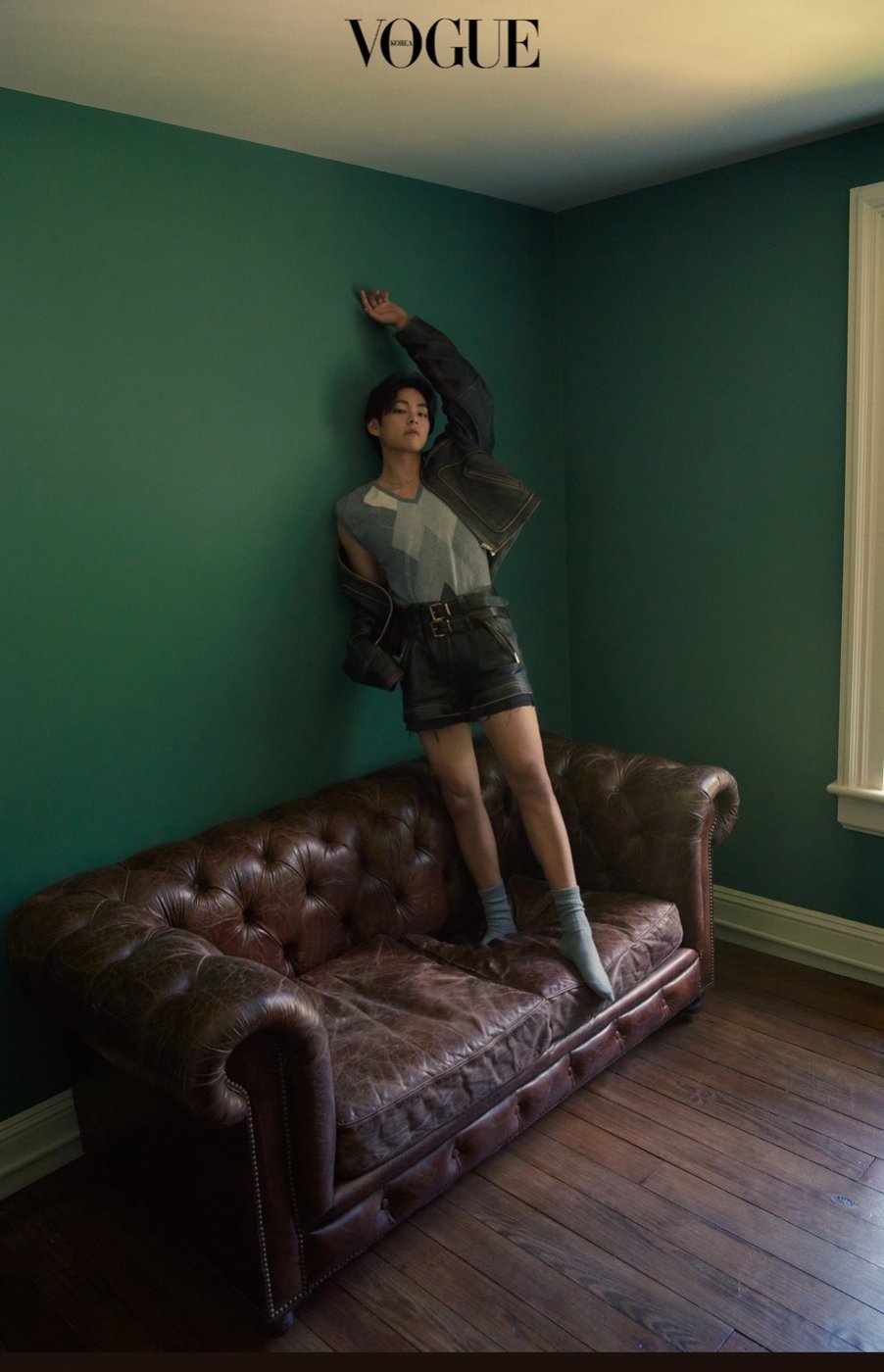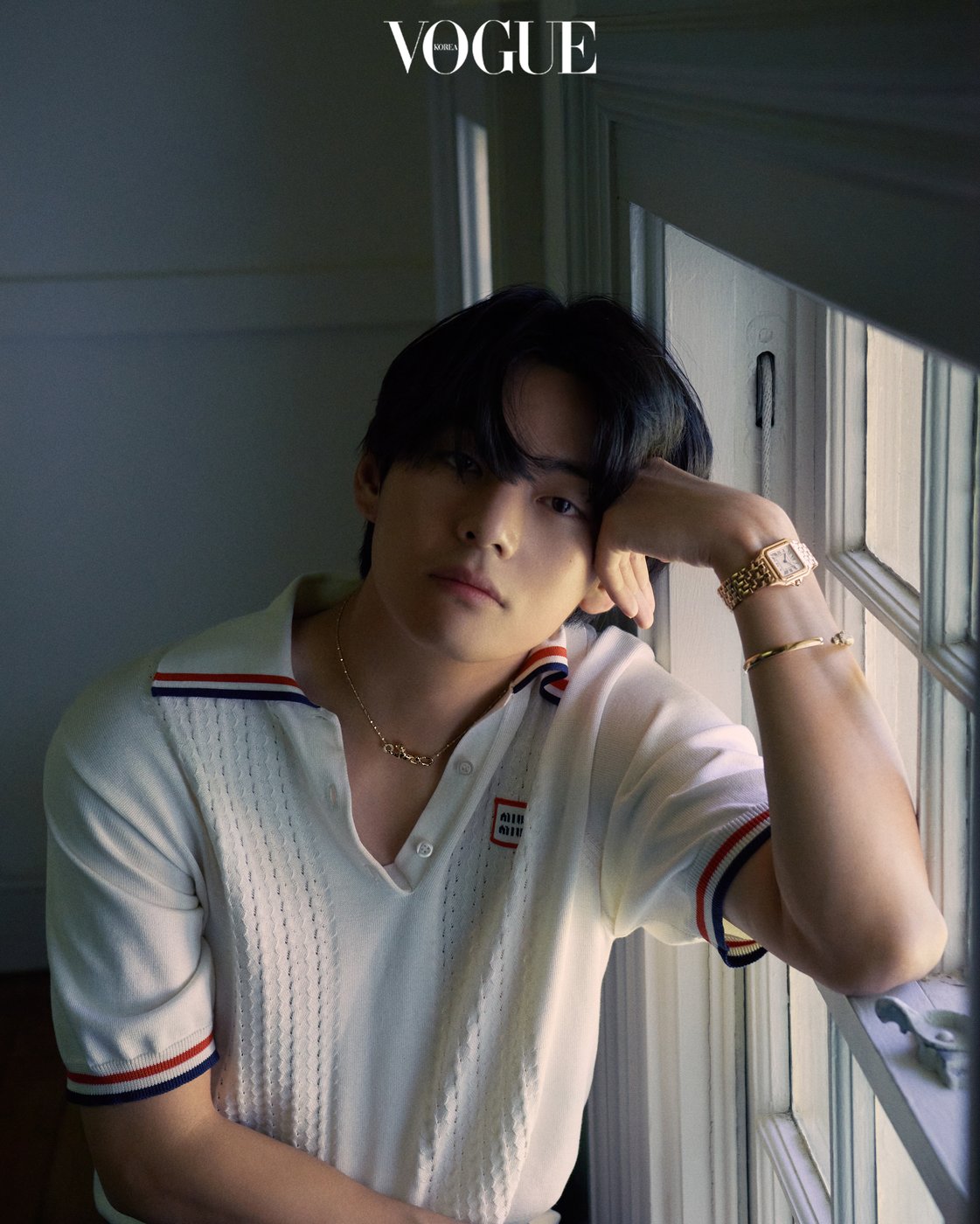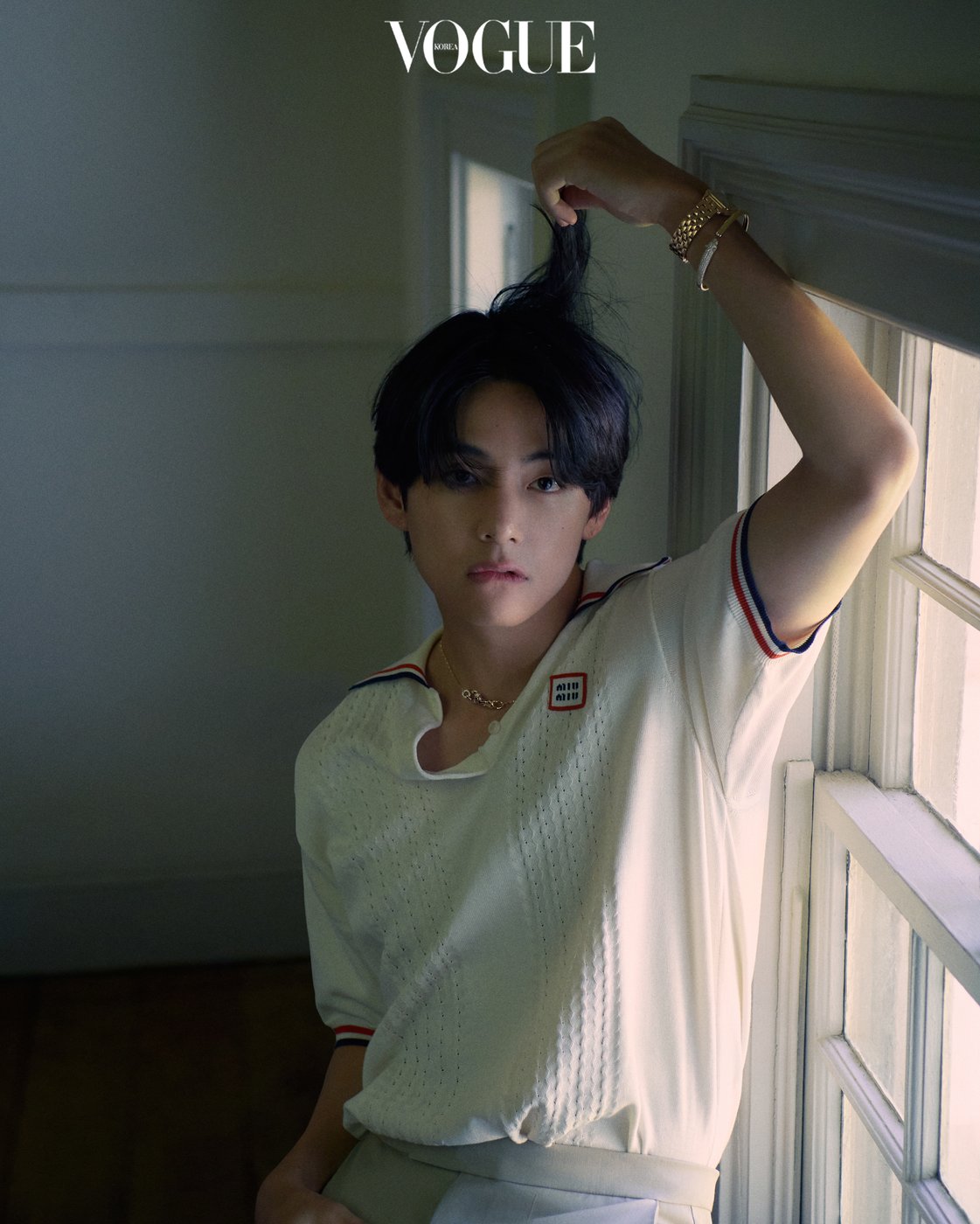 Photographer

Jooyoung Ahn
Fashion Editor

Eunyoung Sohn
Editor

Boyeon Hur
Stylist

Hajeong Lee
Hair

Han Som
Makeup

Dareum Kim
Production

TheCome Tour Co. Ltd., Visual Park
Sponsored by

Cartier, Ralph Lauren Purple Label